I'm really proud to share my story of sponsor child Francis becoming my employee 26 years later…
Watch the video, aired on Channel 10 Eyewitness News on 14th June, 2018:
Listen to my radio interview with Paula Kruger on ABC Breakfast, 15th June 2018:
And with Jenny Seaton on Curtin FM, 22nd June 2018:
Featured Article
This article has been taken from 10 daily news: Perth Boss Employs Kenyan Man He Sponsored As A Child
A child sponsorship, that started nearly 30 years ago, has evolved into so much more. A Perth boss now employing the Kenyan man he got to know as a 3-year-old.
WHAT YOU NEED TO KNOW
Dave and Ann Meney began sponsoring Francis Mwanu in 1992 when he was three-years-old.
They first visited the Mwanu family in 2004 when Francis was 15.
They lost contact when the sponsorship ended when Francis became an adult but re-connected over information.
They met again last year, and it was then Dave Meney decided to employ Francis Mwanu.
Yenem Engineering boss Dave Meney first met his newest staff member through a child sponsorship program in 1992.
Dave and his wife Ann began sponsoring Francis Mwanu when he was 3.
Mwanu lived with his mother Mary in Nakuru, a Kenyan village about 160 kilometres from Nairobi.
The single mother would walk several kilometres every day to make a living by selling potato chips to tourists.
The Meney's sponsorship of Francis Mwanu continued as he grew up and they decided to travel to Kenya to meet the then 15-year-old in 2004.
"We took a soccer ball I think and a couple of gifts in our suitcase for Francis and wished we stacked it filled with clothes for the whole community," Meney said.
'And that changed a whole lot I suppose, it put a lot of life into that relationship that was otherwise just letter writing.'
The sponsorship ended when Mwanu became an adult and the parties lost contact, before reconnecting on Facebook several years later.
They met again last year when Dave Meney invited the Mwanus on a family holiday to South Africa.
The pair bonded on the trip and it was then where Meney had the idea that he could one day employ Francis.
"It was clear he was a smart guy, he was working in a Nairobi shop that imported goods to sell them and he had a head for business,"
'That was the beginning of what is now Francis the employee and I guess at some point on that holiday I was sussing him out," Meney said.
Mwanu is now employed at Yenem, he works from his home in Kenya as a virtual assistant, he manages documents, contacts and projects via email and skype.
It might seem strange sending documents to an assistant on the other side of the world… but for Yenem and many other companies around the globe, it works.
'Well it's the way everything is going so we don't find it difficult, certainty internet speeds are better in Nairobi than they are here in West Leederville where the NBN hasn't arrived," Meney said.
With his wage, Francis is now able to support his mother, he said Dave and his family are exceptional people.
"They've become part of my family because they've known me since I was young, I've grown up knowing them until now, it's like the whole of my lifetime," Mwanu said.
"I've grown up and I'm trying to set up my own life and they are still there trying to make sure that they see the best for me, it feels so special.
Mwanu also hopes to make his own mark on the industry and pay forward the good faith shown in him.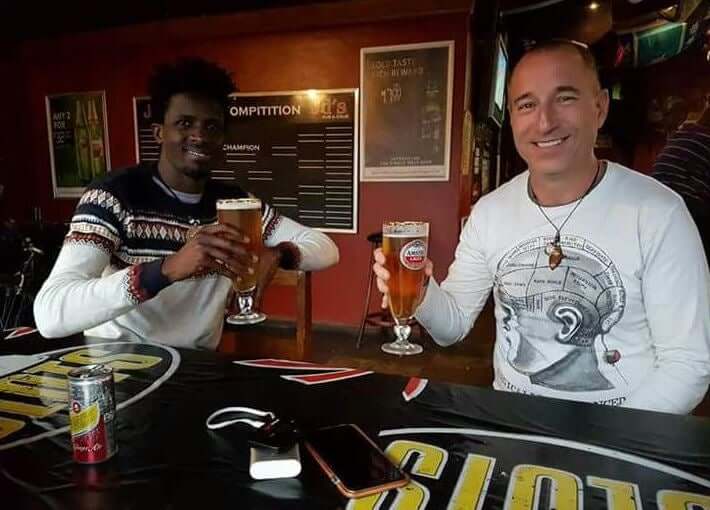 'Dave very much inspires me, like when you see someone helping you, you also get inspired to do the same to another person, at least to reciprocate what you have gotten from them,"
"If all goes well hopefully I can have a VA (virtual assistant company), which I can also share and give opportunities to other friends of mine who can have a platform to work and to also learn a living like I am."